LeviDay 2 is a high-class holiday villa in Levi with four bedrooms, spacious living areas and an atmospheric sauna.
Leviday 2 is the apartment on the right side of the kelopari house. In the semi-detached house, it is possible to go from one apartment to the other through the storage space on the ground floor, which enables flexible accommodation for a large group of work or friends when you book both apartments. The price of accommodation includes ski passes.
Bedrooms: 4 bedrooms, 9 beds
Kitchen: induction stove, convection oven, microwave oven, kettle, two Moccamaster coffee makers, refrigerator with freezer and ice maker, dishwasher, toaster, electric mixer, full Teema serving set for 20 persons with dishes.
Multifunction/meeting room for 12 people: projector, screen, internet, karaoke equipment, PlayStation 3&4, 60 inches TV, DolbyDigital audio system, laser printer, overhead projector (kodoscope), flipchart, fridge, sofa set, table and chairs for 12 people.
Living room: stereo system, digital television, atmospheric and spacious Hopealoimu fireplace
Sauna and washing facilities: Aito wood-burning and an electric stove for a cozy atmosphere, fibre optic lighting, two showers, locker room, hairdryer, toilet
Toilets: 3, one on each floor, hairdryers in the toilets
Utility room: Washing machine, drying closet, ironing accessories, shoe/boot dryers, central vacuum cleaner, cleaning supplies.
Equipment for children: Children safety gates on every floor, crib, high chair, potty, baby chair, bathing tub, stroller, plastic sleds, blades, children spades, snow shovel
Maintenance spaces (bikes and skis): Locked, semi-warm storage space for bikes and skis. Bike service stand, air compressor, and small tools for bike service. Ski service stand and iron. Outdoor bike wash. On the terrace, there are bike racks on which the bike can be locked. Shoe/boot dryers and clothes dryer in the utility room.
Other things: Verisure burglary and fire safety system with 24-hour alarm center monitoring, WiFi, 4 car heating places, 2 ski lift tickets during the ski season. Villas have a Welcome Cyclist logo. Villas have the Green Key -sertificate for sustainable tourism.
A high-quality villa near the center of Levi in the Kätkä area. Kätkä's outdoor activities and ski trails are right next to the villa.
The fully equipped high-class kitchen with Iittala tableware invites you to cook.
In comfortable lounges, you can spend time and enjoy good company. You can enjoy the atmosphere of the fireplace or watch movies and sing karaoke in the downstairs.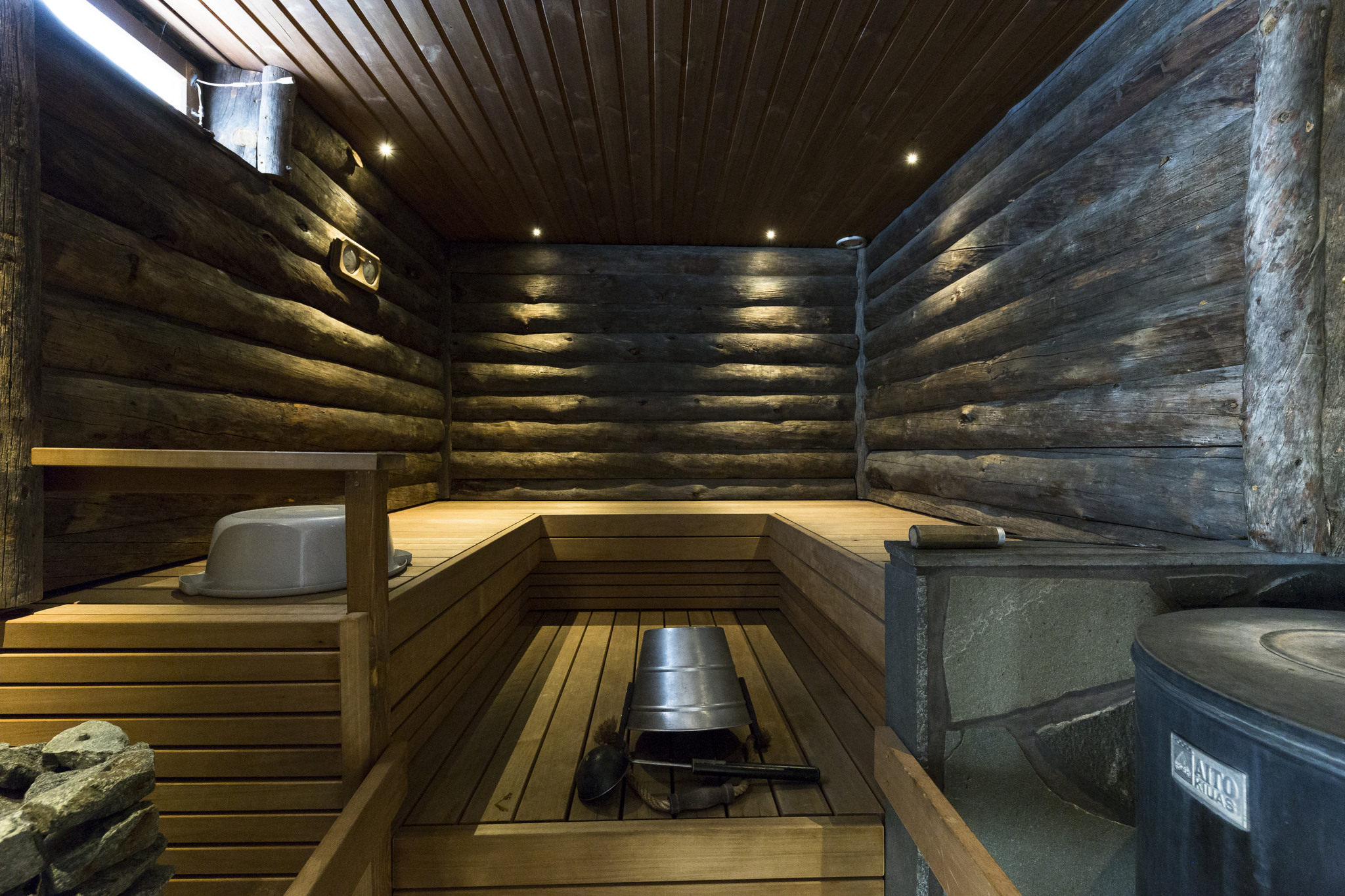 The atmospheric coil sauna offers soft sauna baths or easy and comfortable electric sauna baths.
Children's chairs and travel cots, as well as other children's equipment, are available free of charge upon request.
How to pass through
Drive from Kittilä to Levi
At the roundabout, turn towards Muonio
Drive about 1 km and turn left towards Kyatka (Kätkä)
Drive about 600 m and turn left onto Kätkänlenkki Street.
Drive about 20 meters and turn left.
Drive about 100 more meters and turn right.
In approximately 100 m, you will see the Leviday 1-2 cottage on the right side.
Distance
Levi center by walk 700m
Levi center by car 1,5km
Shop 700m
Cross-country ski trail 150m
Front slopes 1km
Hiking trail100m
Snowmobile trail 300m
Ski bus route 800m
Golf course 6km
Airport 16km
Kittilä 21km